Here are tips for easy DIY hair masks made with simple ingredients you probably already have in your kitchen.
Avocado
Avocado has a well-deserved reputation for one of nature's perfect foods. Its oils and proteins will smooth and moisturize your locks without weighing down fine hair. Mash up half an avocado and add a couple of drops of peppermint essential oil. Shampoo hair, squeeze out water and apply mask. Let it sit for 15 minutes and then rinse. My hair came out super soft – not flat or greasy. And the added scent made sitting around with green goop on your head much more pleasant. If you're not worried about weighing down your hair you can amp up the moisture by adding 1-2 tablespoons of oil, egg yolk or yogurt.
Coconut Oil
The wonders of coconut oil never cease! This oil is heavy, which is great for penetrating deep into the hair shaft, but use it sparingly, especially if you have fine or thin hair. Take a tablespoon of coconut oil and apply to the ends of damp hair. If the oil is solid just warm in the microwave until liquid before applying. Got really dry hair? Keep the oil on overnight and shampoo out in the morning.
Lemon + Chamomile
To warm up ashy blonde hair, try lemon and chamomile tea. Both have long been used as whitening agents for blonde hair. You can do a simple rinse by tilting your head back over the sink and pouring a cup of cooled tea combined with the juice of a lemon over clean, wet hair. Let sit for a couple of minutes and rinse. I also tried this brightening mask that combines tea and lemon with a grated potato. Yes, potato! Shampoo, apply to hair and blow dry hair on low for 2-3 minutes. Then rinse and style. This ended up being more work than I'd want to do on a regular basis but I loved how bright and shiny my hair ended up.
Sugar water
If your hair is frizzy, try mixing a packet of sugar (about a teaspoon or so) with a cup of water. Pour a bit into your palms then run hands over dry hair. Your hair will get a slight bit of "crunch" and hold because you basically just made homemade hair spray!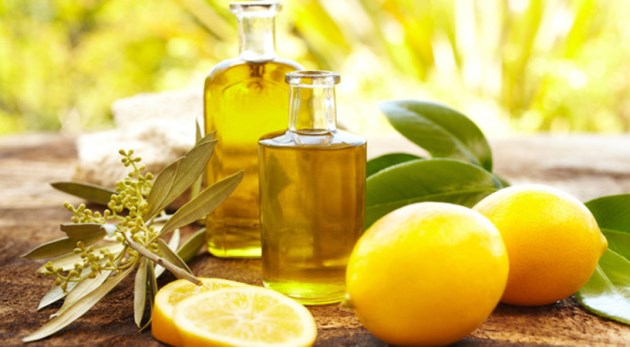 Source: www.helloglow.co