While 2017 was all about tropical green, warm neutrals, and sophisticated camel accents, we predict that this year will be full of even edgier hues.
SOPHISTICATED BLUSH
Graham & Brown's 2018 pick is Penelope, a shade of dusty rose that reimagines neutral home styling. This barely-there color combines the simple chic of ecru and the vivacity of a classic pink.
VIBRANT, DEEP RED
Benjamin Moore picked the vivid Caliente as their color of the year. This lively shade of red is designed to stand out, but an accent wall in this fiery color can help energize and harmonize a space.
SHADES OF PURPLE
Pantone named Ultra Violet the 2018 Color of the Year, and it's easy to see why. This rich, thoughtful shade of purple adds energy and depth to any room. Whether you're adventurous enough to commit to an all-purple color scheme, or prefer to experiment with home accessories first, this complex hue is one to watch.
SERENE SHADES OF BLUE
An overwhelming trend for decor in 2018 appears to be creating tech-free sanctuaries, where you actually find a little relief in unplugging and actually relaxing. Behr's first-ever Color Of The Year, appropriately called In The Moment T18-15, is a casual and calm blue that immediately makes you feel more at peace.
"In The Moment speaks to our society's desire to disconnect and be present," said Erika Woelfel, vice president of color and creative services at Behr. "It crosses multiple design styles — global, coastal, modern — and pairs well with other subdued colors to create harmony for interiors or exteriors."
METALLICS AS NEUTRALS
According to Pantone, metallics are no longer a dramatic color choice. In fact, they're part of the "new neutrals" for 2018, says Eiseman. Whether your choose to inset your ceiling with gold paper, like the room pictured here, or add a few gold accessories throughout your space, apparently gilded is the new white marble.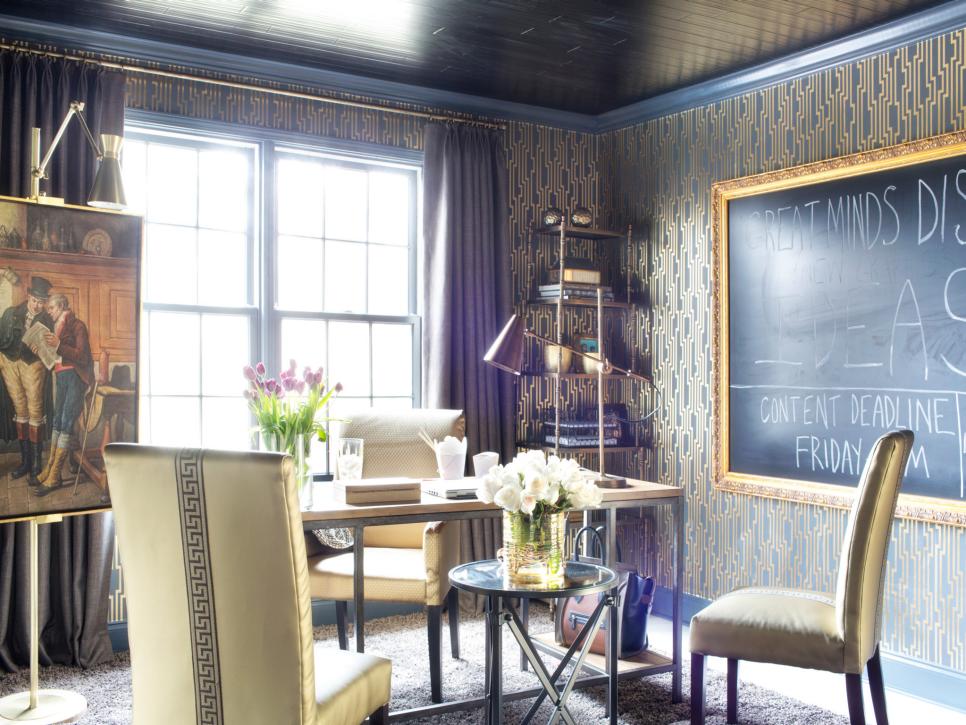 Source: www.elledecor.com